If you are working in a risky profession like power plants, mines, weapon testing etc. and have the risk of losing your life every time you start working, then you should take a look at servicesof T.M. International. We offer prestigious soltuions to protect the people that are indulged in risky professions and dangerous areas. Our corporation started in 2001 and since then, is serving superior quality blast shields and Mazella blasting mats to the people.

The TM International is the world's premier protection company that offers protection against catastrophic events, blasts ad pressure.The wire rope design of our blasting mat has proven to be very effective since 1990.Our blast shield's breathable unique design reduces pressure by more than 50% and stops flying debris and fragmentations from causing additional damage.These blast shields are tremendously capable of absorbing energy like shock waves and it reduces the velocity of these flying matters and do not deflect or redirect.

We are a very reputed company in the field of industrial explosion protection companies. The main aim of our company is to offer high level solutions to all the people who are working in a dangerous profession.We are determined to save the precious lives of our clients by providing them the best product in the market.All of our products are tested for worst situations befored being sell to the clients.We have affordable trucking costs and our trucking services are accurate as well as safe.
Write review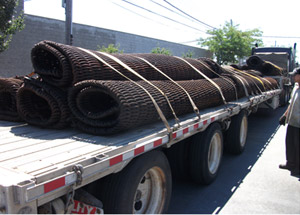 Be prepared to dodge the catastrophic factory accidents and blasts
Write review
Leave your comments on this ad
Offensive messages and spam will be removed